Festivalį ,,Now Japan" pražiopsojau jau du metus. Nes dažniausiai būdavau už 200 km. nuo Vilniaus. Namie. Po obelim su knyga (na, čia irgi geras variantas). Tačiau šiemet to ne(be)bus.
Jau metus kirbėjusią savo mintį šiandien galutinai legitimizuoju - šių metų ,,Now Japan" (tikiuosi, kad festivalis vyks, nes kitu atveju tai jau būtų likimo ironija...) kosplėjuje (cosplay) bandysiu į realybę perkelti Ezio iš ,,Assasin's Creed Brotherhood":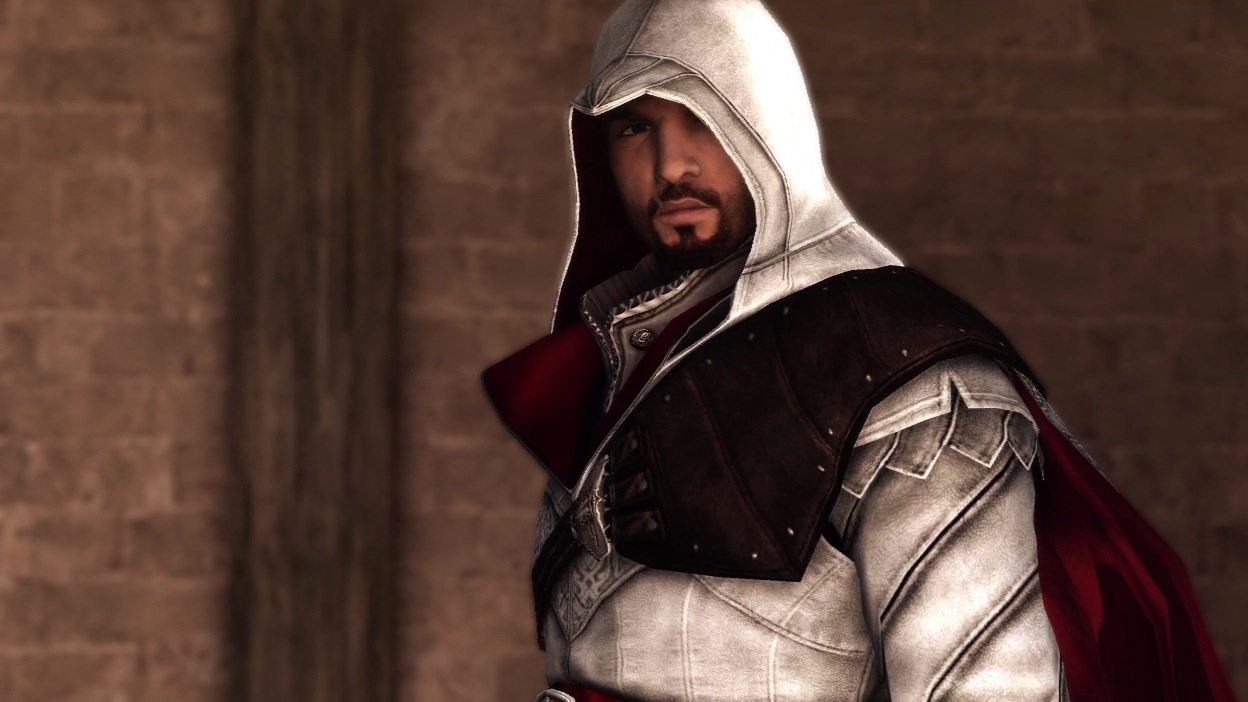 Turiu noro, jau kaupiu medžiagas kostiumui, o svarbiausia - turiu savanorį!!! Kadangi turiu apie 8 mėnesius, manau, kad laiko pakaks kruopščiai ir atsakingai viską padaryti :] Kaip sako amerikiečiai - wish me a luck!
Šiandien pietums gaminau pagal ,,Santa Maria" indiškų prieskonių vištienai ,,Chicken Tikka" receptą. Pamatę šiuos prieskonius atsiminkite, jog jie yra super aštrūs ir jei jums toks maistas ne prie širdies - tuomet geriau išimkite šį produktą iš savo pirkinių krepšio. O jei esate indiško maisto gerbėja (-as), tikriausiai liksite patenkinta (-as). Priekoniuose išmirkyta vištiena skani, tik laaabai aštri (net kakta išrasojo, kol sudorojau padažu permirkusius ryžius :) ). Ir be to - 200 ml vandens per daug, pilkite mažiau, nes man padažas buvo per skystas, nors ir pyliau vandens tiek, kiek buvo nurodyta. Šįsyk foto nebus, nes du alkani studentai sušlamštė viską labai greitai :] Patarimas: pasistatykite šalia daug vandens, sulčių, bet ko, kas bent sekundei nuplautų tą deginantį aštrumą...
Iš vakarykščių nuotykių. Mano bendrabučio kambario lubose esantis įskilimas ir drėgmės pėdsakai mane domino nuo pat įsikraustymo (o tai įvyko prieš beveik du metus). Tačiau tik vakar, kai taip lijo, matyt, vanduo ,,pataikė" tam tikru kampu ir...
Iš pradžių atrodė, kad užteks tradicinio metodo:
Tačiau lietus nesiliovė, o plyšys lubose ,,įsismarkavo" ir tada mano draugas bandė sukonstruoti kokį nors įmantresnį įrenginį vandeniui surinkti. Išėjo taip:
Kapsėjimas liovėsi tik po vidurnakčio, nors lauke nebelijo jau kokią valandą. Sesers palinkėjimas nepaskęsti atrodė laiku ir vietoje...
Todėl labai džiaugiuosi, kad šiandien sninga. Nes su lietum man norisi turėti kuo mažiau reikalų. O ypač - kambary...
Assasin's Creed image copyright © Ubisoft Entertainment